aron davis beard clippers.
appleguy123
Feb 28, 08:30 PM
rape and paedophilia both involve lack of consent. Although paedophilia has to do with that the mind is attracted to pre-pubescent children in the same way that homosexuality causes attraction to the same sex. Both cases are untreatable.

Now you've stopped stating opinions and walked into fact territory.
CITATION NEEDED!
Has anyone ever been truly 'cured' of homosexuality? You need to produce empirical evidence. Notably brain scans showing the arousal of a homosexual to people of his same sex before and after this 'treatment.'
If you can produce that evidence, I will be satisfied that homosexuality is a treatable condition. Until then, I'm just assuming that you're stating dogma as fact to make reprehensible claims.
---
aron davis clippers eard.
What? Apple*differentiates the XServes by having them 1U thick and rackmountable. One buys a rackmount server not because it's faster but because it's smaller and fits in a rack.
...
and ECC memory
and dual GigE network ports
and serial-port management capability
and Mac OS X server preloaded
and no bundled video hardware

The processor and hard drive can be identical to a G5 or Mac Pro, and neither will cut into the other's business. An Xserve makes for a lousy desktop, and a G5 tower is overpriced and not as good when used as a cluster node.
---
aron davis cavs 85.
xxBURT0Nxx
Apr 6, 11:16 AM
I am shocked that anyone finds this as a positive.

So you all want a drop from 1.86/2.13 to 1.4GHz CPUs in your 13" MBA? That is a 30% drop.

Then you want another drop of approaching 50% in graphics performance? Remember these IGPs clock in much lower than the STD voltage SB used in 13" MBP.

I find this completely backwards from Apple's current position on both CPU and graphics, and I don't think anyone would end up with a faster or better 13" MBA than the current generation. Apple would certainly have to bring back the backlit keyboard and introduce Thunderbolt to sucker anyone into buying such inferior junk! I would recommend people buy the current generation on clearance rather than lose performance everywhere like this. If this is the chip Apple uses in the 13" MBA, prepare for a big drop in capabilities!

I am still in shock anyone finds this a positive? Have you all read the clock speed? The facts about the chip and IGP in ultra low voltage variants?

clock speed is not everything... a 1.4ghz sb processor will kill anything you are doing with a 2.4ghz c2d. There are many other factors in a processor than just clock speed so i wouldn't be worried. There is no doubt that the sb will be a much faster processor than the ancient c2d.

Also, I would say 50% less graphics is a bit of a stretch. Haven't personally ran any benchmarks but was reading a thread the other day and in the benchmarks and graphics they were showing that the 320m averages about 5-10 extra fps over the 3000.

here is a thread you can look at and compare for yourself.

http://forums.macrumors.com/showthread.php?t=1103257

Sure the integrated graphics are going to be slightly worse, but at least you will have a nice new processor. Can't always have your cake and eat it too, especially in an ultraportable.

When the mba was refreshed everyone was complaining about the outdated processor, now rumors of a processor upgrade and people bitch about the integrated graphics. Guess you can't please everyone but jesus, sometimes it just seems like people find anything they can to complain about.

Here's a simple solution for all of you, if you want the "slightly" better graphics go buy a macbook air right now, it's not like apple has stopped selling them. If you'd rather have a sandy bridge processor, wait it out. Seems simple but i guess that's just me?!?!?!:eek:
---
Baron Davis information
LightSpeed1
Apr 11, 03:53 PM
I think I'm done with the iPhone 5 rumors. At this point I think I'll just wait till June-July. It's not that far away.
---
aron davis beard.
How about Super Mac :D


Eight cores I cant wait.


Imagine 32 bit passes at 4k in your 3D apps with all the extras.....Eight render lines screeching down the screen.
---
How to get cialis, Baron Davis
I'm glad that Leopard will be completely (that's what they say, at least) 64-bit. I'm not sure why it's important to go on about the applications as if they were important to the operating system itself. Increased integration like what was displayed would cause the anti-trust machine to whip into action, if it was Microsoft instead of Apple.

Time Machine is not exactly revolutionary, considering that there were a few 3rd party products available--Rewind comes to mind--that journaled changes and allowed them to be restored. Still, it should stop the various threads "I accidentally deleted..." :)

Hopefully, the features not mentioned will include a better kernel that actually performs well. It would be nice to see operating system benchmarks that don't make me cringe when I look at the Mac OS X results.

Xcode version 3.0 looks good but they still haven't provided many details.

Yeah, my first thought was - oh yeah, that's just like Rewind. However, the poweronsoftware.com website now forwards to http://www.nowsoftware.com/, so maybe Rewind has been bought out by Apple to use as Time Machine. Anyone know any more about this?

Dune
---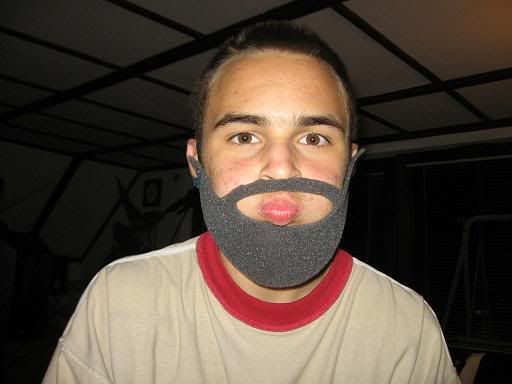 aron davis girlfriend
I stopped by the Apple store tonight to play with a Macpro. I'm getting ready to buy and thought I'd get some hands on experience to see how it performed with Finalcut Pro. I was especially interested in how it handles playback of uncompressed footage.

The store had a 2.6 hooked up to a 30"ACD. Everything on the machine was stock. I launched FCP and it appeared with a project already loaded (about 5 seconds). The project was a simple 20-30 second 720x480 NTSC clip of hockey game footage. I selected the clip and copied it to a new layer and threw a blend mode on it AND changed the speed to 85%. Next I copied and made another layer and changed the speed and offset it and changed the transparency to 80%. 3 layers total with the top two manipulated. I hit the render and it finished in about 30 seconds. :)

I know, not very scientific, but I just wanted to get a feel for how fast the Macpro would render manipulated footage. Anyhow, next I changed the output in project settings to "uncompressed" and hit render again. Again, it took less than a minute to render and the CPU usage in console was maxing out at only 42% per core.

Once the render completed, I hit the play button to see how the stock Macpro would handle playback of the uncompressed footage. It played for about 4 seconds then threw an error saying that frames were being dropped during playback. Not good. I was hoping that the Macpro would be able to play uncompressed footage from the timeline without 3rd party acceleration or setting up a raid. The error message suggested turning off RT effects (of which I did, but still had dropped frames) or get a faster drive. There was a couple other things the error suggested, but I can't remember at the moment. I wonder if having the ATI card would have made a difference? Not sure if FCP uses the GPU for playback, but I would think that should make a difference. Ram would probably help too. Anyone know what might be going on? Am I expecting too much out of this machine?

Sorry for sort of getting off topic. I thought this might be an appropriate area to post this; I wasn't feeling up to starting a new thread.
---
Baron Davis is really the best
CellarDoor
Aug 8, 06:29 AM
In nine months or less......... we'll have those
Top Secret features in our machines - too bad
for Redmond they won't be revealed until then.
Core graphics and Quartz Extreme will be amazing.
Love Time Machine, Spaces, etc.

Is this a poem? Lovely.
---
Baron Davis#39; Message to
I'm not sure it will be as feature rich as some expect--remember ease of use seldom plays well with complexity.

However, I am eager to see what comes of this and preferably soon. As I am now on my 3rd replacement RAZR which is begining to have problems.:mad:
---
Baron Davis beard.
Reading most of the posts, especially the negative / critical ones, I'm relieved that you guys don't work for Apple!

IMO, Lion will "merge"/"blend" some of the IOS look and feel. It will be a great selling point for those who own iPhones and iPads, but have not taken the Mac plunge....familiarity will be a huge selling point.

Don't like Launchpad? Don't use it. Use the dock or finder. I don't use spaces, but know many who swear by it. To each, his own.

I welcome the next version of Mac OS X, but I do not expect something so radically different that I'm setting myself up for disappointment.

Cheers....
---
aron davis clippers 2009
Super Dave
Aug 6, 01:43 PM
As Apple applied for the trademark, it will not be approved.

It is up to Apple how they want to proceed. A fight that can't win, no matter how much money they have.

Mac Pro has been the premier Mac dealer in the same county as Apple since 1988. Out of all the names for this new line of computers, why choose one that they know they cannot have.

We are already getting countless support calls for the macbook pro. It seems they assume we made them When we can't help them, they seem to get very upset.

Mac Pro is in a position to file for a court order not to release any computer that bears our name.

So get ready WWDC, we will be watching.



Mike Ajlouny
President
MAC-PRO.com

Admittedly trademark law isn't my specialty, but I suspect Apple has a trademark on the word "Mac," and adding a generic word like "Pro" to it does not seem like something you could claim any originality with. Especially since it's based on their trademarked word in the first place. Is there something I'm missing?

Oh, and a computer and computer store aren't exactly the same thing. How are you going to claim consumer confusion?

David :cool:
---
recap Baron+davis+eardman
LagunaSol
Apr 27, 08:24 AM
Its not about being a criminal or paranoid. This data is for the sole purpose of marketers to sell us crap.

Well, I'm tired of seeing ads everywhere I turn. You can't go to the bathroom now without seeing a ad shoved in your face and its becoming tiresome.

Perhaps we can interest you in a *free mobile OS? Android. By Google.

*funded by advertising
---
aron davis cavs uniform.
Keep in mind that Google tightening up Android and forcing handset makers to adhere to certain guidelines is primarily a problem for the *handset makers* and carriers--but not consumers.

I couldn't care less what problems Verizon and Motorola have if the end result is a beautiful and functional device. If not, I'll buy something else.

At a glance your statement sounds fine. But that logic can be used for following logics:

1. I don't care what US does to rest of world as long as I as an american can live nice, prosperous life.

but i digress...
---
aron davis beardman. aron
slackpacker
Apr 25, 02:25 PM
Honestly If this does not bug you it should Apple along with Law enforcement have know about this they have been using devices to read this info and use it against the Phones owners if the info proves useful. Good I totally support a lawsuit Apple should be embarrassed and ashamed this is a big deal. Nothing should trace where your going and keep a record. This info can also be used by criminals but the true criminal here is Law Enforcement since they knew about this info and used it against suspects.

Please take note suspects are not criminals they are you and me and getting pulled over or involved with the Police. It can happen to anyone for many reasons other than causing a crime.

Apple has just brought us the closest we have EVER been to 1984.

Protect our Freedoms
---
aron davis beardman.
There is one thing some people don't see, this is one company against an entire army of companies & this one company is doing a hole lot better. Apple will alway be on top when it comes to all this type of gadget get over it people and by the way, I always thought this was Mac rumor forum.
Maybe they should change there name :apple: :D
---
The 10-man rotation, starring Baron Davis#39; eard growin#39; contest
I am in Inverness, FL.

I have 3 stores in my County and only 2 of them received phones. The store I reserved mine at did not get any. But they issued the most PINs.

Citrus County and North is my District area.

As I am not an employee there anymore I cannot check stock myself.
I will see if my buddy can pull a Regional View and Print it out.

EDIT:
The Region (Region 2) is getting 139. Every District is getting phones. Lowests being 4 and the highest being 29.

ALSO Note, This is what Stores are receiving right now. There is no word until tonight if more will be coming in tomorrow. I will keep you all posted.
The Region consists of all of Florida and Georgia.
---
Baron Davis is sellin#39; his
benthewraith
Nov 28, 08:02 PM
they said that their music was driving sales of iPods so they deserved a cut of iPod profits from Apple.

What if I don't use my iPod for their crap? What if everything on my iPod was made by independents or music labels independent of the RIAA/MPAA fascists?
---
I have the Baron Davis/Rick
I certainly agree that the Core duo will be the lastest, latest.

yet what about it will be so valuable to the user, that has jsut purchased one.
That he should return her new unit.

Does it bake cookies, ? no.
Produce less heat? no , it wont really. and if it does it will be small differences in possible either direction. Cooler or hotter.

So, I see the only real difference with CPU changes as being limited to a small boost in hertz. Minor at best.

In the iMac realm there will be little other changes, most are limited to the Macpro area etc.

And returning it will cost time and effort waiting for the next iMac which may not appear for some time.
---
aron davis beardman. aron
Westside guy
Nov 28, 07:01 PM
And I don't understand why they should...Can somebody explain it?

One of the Universal powers-that-be said a week or two ago (my paraphrase until I can locate the original) "Everyone knows that those devices are all about storing stolen music. This is our way of getting some of that revenue back."

I realize there are a lot of people that use bittorrent and the like, but I'd like to believe there are also a lot of people like me. My music is pretty much all legal. After ITMS came online I went and purchased copies of the (reasonably few) songs that I had at one time obtained illegally. The vast majority of my music is actually ripped from my CDs, which were all purchased legally.

Edit: From a NY Times article about the Zune (http://www.nytimes.com/2006/11/09/technology/09music.html?ex=1164862800&en=12038e7b077c3762&ei=5070): "It's a major change for the industry," said David Geffen, the entertainment mogul who more than a decade ago sold the record label that bears his name to Universal. "Each of these devices is used to store unpaid-for material. This way, on top of the material people do pay for, the record companies are getting paid on the devices storing the copied music."
---
freakonguitar
Aug 26, 03:55 PM
well...then maybe we will see a new macbook pro and possibly some other things in the next few weeks to come. :) but from some of the rumors, mermon has worse battery life and more heat than yonah :( ....which is too bad, cause we could use a cpu that gives at least just as good performance but less heat!
---
Prove it.

The burden of proof is not on him or Apple and you can't prove a negative.

The burden of proof would be on those bringing the lawsuit or people like yourself to prove apple is doing something with this data.
---
Henri Gaudier
Aug 26, 04:34 AM
Every time I read a thread on Apple's reliability or Apple's service I rarely see my experiences mirrored but this time there seems to be a lot of disatisfied people out there. I've had nearly a dozen Macs and everyone has either died or needed something major correcting. And everytime the service from Apple has been diabolical. EVERYTIME. Often native Dutch or German centres I think. How can this be with all of these Apple are great stories? "Our customer satisfaction is very high" Schiller *****!! And as for the Indian call centre closing down as quickly as it opened remark - well that just shows you Apples attitude to workers rights doesn't it. Globalisation crap. Apple are a wank capitalist corp that designs nice products and then they get someone else to make them in the cheapest way possible. All this idolatry. There service may be good in the US for whatever reasons, pride or US consumer expectations but when they travel abroad they don't give a *****. Trust me. If only there was some way out but after the thousands I've spent on software... there's no changing.
---
Anyone on here agree that we are entering the world of PC's of sh*ot in the way where we buy a Mac and 2 months later there's news of something better down the road? Or is this just for now since this is the transition period for Apple to the Intel chips. Just curious.
---
Wow! :eek:

It's amazing how Apple keeps managing BIG updates to OS X. They are moving forward so much more efficiently than Microsoft. Not just polishing little things, but big, useful things. Not to mention some fun ones to attract consumers. I hope the advanced Spotlight features include easy boolean searching.

And now we can all wonder about those OTHER features Steve said they are concealing for now so Microsoft can't make a halfway copy (or attempt to) yet again.

I'm surprised res-independent UI was not discussed, but Apple has already said (http://developer.apple.com/releasenotes/GraphicsImaging/ResolutionIndependentUI.html) that is coming, so maybe it's just not polished enough to bother showing yet. (Or maybe it's better to show when new displays come out? Today's new low prices on Cinema Displays might hint at new displays to come later.)

I've been asking for that background-change effect in iChat for years! Adobe Premiere could do that in the 90s, though not in realtime. Too cool!

Now one question... A new Front Row has been mentioned, but what will it have? PVR, tuner-ready for future Macs or peripherals? At first I also wondered about ["from across the room or across the house"... But I bet they're just talking about sharing iTunes or photos from another Mac, which is old news.

PS, congrats to MR's servers for handling the load :)
---