2011 Earth Day Poster Contest
i know, but in that case apple has to port front row to windows. Or they have to implement front row into itunes or something like that, so that it will work exactly the same way on windows as on mac. as long as they have itunes installed. but that way, all media files (movie store movies, avi, divx, video_ts folders and even photo's) should be stored inside itunes.

Apple will probably just update ITMS to be a better venue for movies. M$ probably doesn't want a new "media center" to conflict with theirs.
---
Earth Day 2008 Poster Contest
I
Do
Comedy

That's pretty funny stuff. Are they writing for TBS?
---
Earth Day Poster Contest!
Are there any Thuderbolt devices yet?

sigh... I haven't even seen cable adapters, I kinda expected a ThunderBolt to eSATA adapter quickly...
---
Earth Day Poster Contest
This ruins my theory about smaller (24"?) ACD with daisy chain for multiple single-TB monitors...
---
Awesome Earth Day T-shirts!
Awesome. I can't wait to see it.
---
2009 poster contest winner
Cameront9 thats what iam thinking whats this zen gona use that an ipod in its current format dosnt use except wifi and xbox live stuff
---
EARTH DAY POSTER CONTEST 1993
TallManNY
Mar 22, 01:23 PM
Good news. My Mom needs a new iMac due to screen issues on her ancient machine, so she will be getting my hand-me-down 24-inch Core 2 and I will be buying an upgrade. I would like to see the 24-inch come back, but will probably consider and go with the 27-inch.

Hope these machines don't run too hot or have too many mechanical problems. As long as Apple doesn't unnecessarily try to make these things another 1/4 inch thin, then I'm guessing these are okay right off the bat.
---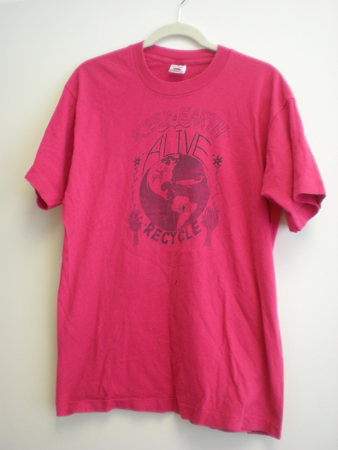 Earth Day poster contest
Exactly. There was no violence, no rowdiness. This is how the current mindf*cks work. People hear that a group or activist with views counter to the needs of govenrment and big business and their heads immediately fills with images of extreme millitancy. As I said - they handed out leaflets. That's it.

It's the same when the intelligence services and police stage 'terror raids' on houses where the inhabitants have no connection to terror. People immediately think 'Ahh, they've got those terrorist scum...' When the suspects are released without charge no one asks how zero evidence can possibly lead to an armed raid.

No, in the case of Greenpeace, most people's experience is probably formed from *first-hand* experience of being approached on city streets. I've certainly been approached dozens of times here in NYC. Personally, Greenpeace doesn't bother me. But Greenpeace reps usually *are* quite insistent, and that behavior is legal on a city street, but does not have to be tolerated on private property.

I mean, it's easy for me to brush people off here in NYC because I'm used to it (constantly get approached by panhandlers, palm readers, political activists, etc.). But at a convention, people whoe weren't used to that probably allowed themselves to be stopped and then had their ears talked off for a few minutes, because they were just too nice to brush off a pretty young girl (which most Greenpeace reps are because they know that people will be much nicer to them on average than to, say, a young punk-ass male). So these people probably didn't say anything to the Greenpeace rep's face, but then turned around and noted a complaint with MacExpo. MacExpo probably received a few of these complaints and decided enough was enough...
---
educators earthday poster
You are right. I make a call. i expect to pay for it. i dont expect the person im calling to get billed for the damn call.


The other way of looking at it is that the mobile user has made a technology choice. They shouldn't expect other people to pay for their technology choice. A system where each person pays to connect to the network and decides how they want to pay for that is inherently fairer, even if it makes it harder for people to choose to subsidize the systems of others.

(Remember too that in the majority of cases, most US users have a fixed bill because of the high number of bundled minutes coupled with the huge unmetered portions of their bills. It's not the case that we get billed for the incoming call in the majority of cases. If it's made at peak time, from a different network, then yeah, we'll use bundled minutes, but most of us end up with large amounts of bundled minutes free at the end of the month despite this. And you never have to accept an incoming call.)


and. as for pricing. yes, vodafone have a 1c/sec flat rate on calls. but. i pay $79/month and at the end of the my account has a automatic refund (of sorts) applied, so anything up to $500 in calls/txt/etc is included in the $79.


That doesn't sound like a bad plan, that's unusually good outside of the US from what I've researched, though most of my research has been limited to the UK.


i DO use my mobile for most calls. i use my landline maybe once a week, because it has a better speakerphone if im using it for a long time.

If I were back in Britain, I couldn't substitute a cellphone for a landline because of the incoming calls issue. It's simply not fair to my family or friends to make them pay through the nose to contact me. I might use one for the bulk of my outgoing calls, but for incoming calls, it wouldn't be right.

An ideal compromise, in my view, would be for the operators to provide two numbers on every phone, a caller pays and a mobile party pays (with the latter being treated as ordinary airtime, or unmetered according to a fixed monthly charge), but alas I don't think the operators would ever do something that could potentially undermine their interconnect revenues like that.

Neither solution is perfect. The US seems better at the moment because of the emphasis on unmetered usage. At least unmetered incoming calls are an option here. But the downside is the lack of a practical PAYG system.
---
day is Earth+day+poster+
Multimedia
Sep 12, 04:47 PM
Educated guess would be "big" iPod sales will slump whilst the Nanos & Shuffles will skyrocket.At these new lower price points that reads pretty UN-educated to me. On secopnd thought though since many of US - not the general public - are waiting for the 640x360 widescreen video iPod, this would be a miss.

I htink it's pretty lousy of Apple not to provide the firmware update to allow original 5G Video iPods to load and play Baseline H.264 640x480 self-encoded video. I'm mad about it.
---
The poster contest was open to
JobsRules
Oct 27, 10:04 AM
If you actually look at Greenpeace's spoof Apple site, it's actually quite friendly to the corporation like, 'You're a great stylish brand but you could do better'.

Among 'activist types' Mac usage is far, far higher than amoung the general population. Greenpeace members are probably avid Mac users.
---
in our earthday poster apr
I have an original mac portable sitting next to my 11". Laptop design has only downsized from this original beast and gotten faster.

I am not impressed yet. Incremental updates, nothing major or breakthrough.
That's just how it will always be. I'll hold onto this 11" for 8 years and guess what. It's replacement will be just an 11" roll out touch screen computer.
That is where this is going in 8 years and I am still not impressed.
---
Earth Day Poster Contest.
There may be lots of TV options out there, but right now Apple isn't servicing any of them. They're losing potential business to 3rd Party companies like Elgato. If they released a simple box with analog/digital standard/hidef options, they would be servicing the overwhelming majority of the market (most digital, satelite and other special services require set-top boxes anyway).I don't see anything wrong with letting Third Party developers pick up the slack where Apple is not delivering. EyeTV is a pretty good product for people who want PVR fundationality on their Macs. Sure, it'd be great if Apple did something innovative in this arena, but for a simple PVR, EyeTV does the job.
---
Earth Day Poster Contest
God I want a 15" Merom MBP, but I need to get rid of my MB first, and I want iLife '07 in them. I can't wait for Leopard. Please Steve, read it...:D
---
Earth+day+posters+made+by+
He wants all copies of Android to be "impounded and destroyed" (a direct quote from text of the suit.) Because if Google is allowed to plagiarize and distort Java, others will follow. Ellison is making an example of Google, and it's going to be a law school textbook IP case study for the ages.

I doubt Oracle would get that at this stage of the game. It would deprive millions of people of their hardware and it would be a disaster for handset suppliers. No patent judge in his right mind would grant that kind of a request.

What's more likely is a monetary settlement based on the number of handsets running the patent being infringed.
---
Earth Day Recycling Poster
Another crippled machine. I doubt Apple will show how bad their connector overloading is.
---
Senator Boxer#39;s Earth Day
What tone? Yeah I don't want to spend that much. I'm thinking $4k max for an 8 Core-In-One Mac Pro. I'm sure I'll be pretty happy with 8 until I find out I still have to wait a lot for video compressions to happen. Then I'll be right back here complaining about how 8 cores isn't enough either.

My Xeon utilization is only 50% per proc while compressing in Quicktime Pro. Even during an HD export (http://www.macpro.ws/P3.jpg) the fans don't get use.
---
2011 Earth Day Poster Contest
Huge win for Apple, hands down.

$100m is not chump change but for a company with Apple's size it comes close.

On top of that Apple gets to recoup at least some of that if Creative decides to license the technology in question.

On top of that Creative is entering the "made for iPod" market, which only adds to the iPod allure.

On top of that iPod interface doesn't change.
---
nd annual Earth+day+poster
Cameront9 thats what iam thinking whats this zen gona use that an ipod in its current format dosnt use except wifi and xbox live stuff
---
AppleScruff1
Apr 25, 10:08 PM
And a large portion of that 99% of the market will find integrated graphics fine, until they venture to the Apple App Store, and find that their spanking new MBA have a video card not supported by 99% of the games on sale... In fact, integrated graphics are not only not supported, but are specifically singled out in most game's system requirements.

I don't question the gaming issue, I just wonder what percentage of MBP buyers would not buy because of the Intel graphics. My uneducated guess would be a very small percentage. Remember, Apple caters to the average consumer, not the geeks.
---
If, say, Steinberg didn't like the fact that girls were hanbding out Protools leaflets in the aisles near their stand do you think Protools would have been kicked out?


If they had already been forewarned and did it anyway, then yes, a company would have probably been kicked out (especially if they continued after a second warning).

Have you ever been to a tech convention? It is *not* a free-for-all where people roam around handing out fliers anywhere on the convention floor. Vendors are expected to stick to their designated booth that they paid for. Conventions make money by charging for floorspace. What kind of leverage would they have to charge for premium or larger floorspace, if vendors could just get the smallest booth possible, but then flood the convention floor with people handing out brochures? Even though Greenpeace is not a vendor and probably received their booth space pro-bono, they should still stick to the convention floor rules.
---
Don't believe it!

It's easy to believe it...when they say Windows Phone is a "differentiated" platform, they simply mean "inferior"...move along, citizens :rolleyes:
---
gnasher729
Jul 20, 03:43 AM
But you are right that the thermals of Conroe could be a problem. I'm not sure how much of a difference speed-step will make. Although it is the most power-efficient desktop chip out there, it consumes less power under load than Pentium D's at idle:

The new version of Speedstep that is available from Yonah upwards seems to be quite good. The operating system can reduce the clockspeed, but at lower clockspeed it can also reduce the voltage, and power consumption is proportional to (clockspeed x voltage x voltage).

So my idea would be: A control that lets you set "maximum fan noise". If you need to render an hour of video, you should set it to maximum, if you are doing audio recordings with your Mac and want it silent you set it to minimum. That control also shows whether your clockspeed has been throttled, so if you prefer the Mac fast instead of quiet, you can have that as well. So you get the best of both worlds.
---
what the heck LOL, this is a joke right? I have NEVER seen a single new windows phone being used in public nor do I see that many Android devices in the UK. mostly I see

1. BlackBerries
2. iPhones

never seen a new windows phone LOL, most people who are happy with iPhones etc, will stick with them and won't bother going for anything else.

Looking at the email notification I got of your original list before your edit:
1. BlackBerries

2. iPhones

3. HTC'S <--- Those would be your Android/WP7 phones. ;)

4. Nokia N-Series
---